How to Use the Video Poker Advisor
Learn how to use this amazing tool below!
Unlike our Video Poker Trainer where you actually play Video Poker and learn from your mistakes, the Video Poker Advisor just tells you how to play. You can use this training tool to basically "look up" the correct answer!
And the best thing about the Video Poker Advisor is that you can actually use it while playing Video Poker at a brick and mortar casino. When I go to Vegas, I enjoy sitting at a Video Poker bar, ordering free drinks while playing Video Poker. And any time I'm unsure about a hand, I use my iPhone's browser and look up the hand with this Video Poker Advisor. The interface will fit on your smartphone! And you are allowed to use this tool while playing, unlike using your phone while playing Blackjack.
It's a very simple tool to use, I'll show you below.
Much like the Video Poker Trainer, you must first select the type of Video Poker game you are playing. The tool defaults to Jacks or Better, but you can change this to Aces and Eights, Bonus Poker, Double Bonus Poker, All American Poker, or Joker Poker.
The second option is the Payout which defaults to 9/6. The 9 refers to the payout when hitting a Full House with 1 coin. And the 6 refers to the payout when hitting a Flush. If the game you are playing does not have these payouts, adjust this option to match the game you are playing.
Note – there is also a Custom option if your game does not match one of our settings.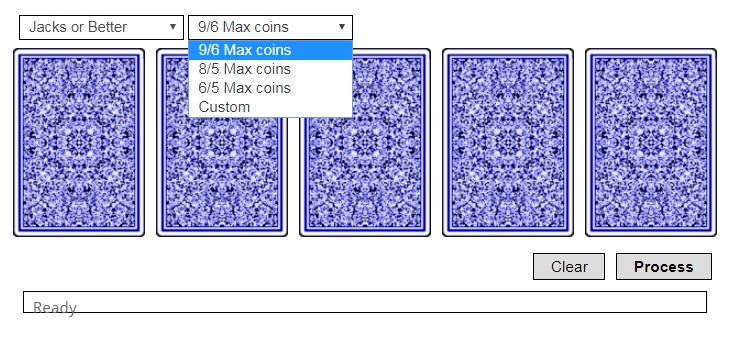 Once you have set your options, you can just click on one of the cards which will open up the card selector. Click on the individual cards that you were dealt.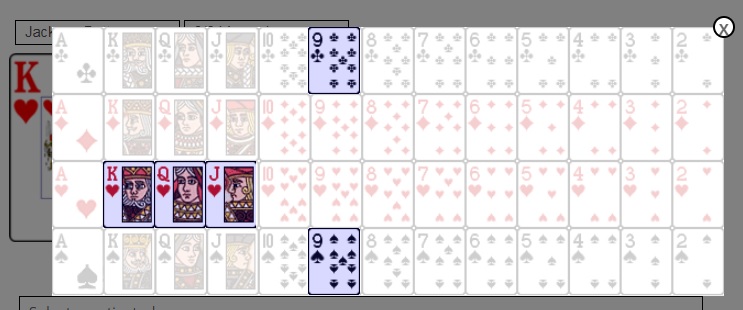 After selecting your 5 cards, the card selector will disappear and place those cards in the advisor. Click the Process button to see the results.
The Video Poker Advisor will calculate the best moves to make. In the example to the right, what should we do?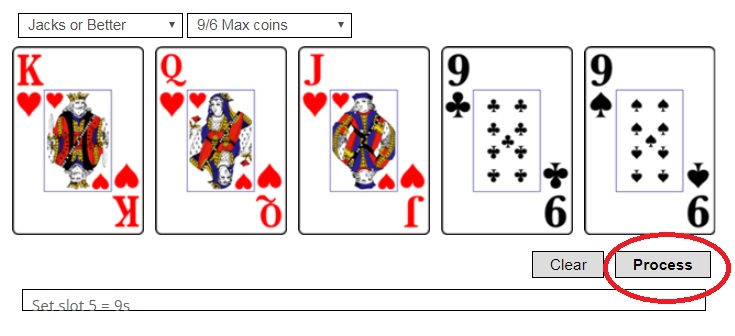 After a second or two, the Video Poker Advisor will generate a graphic that you can right click and download. You can share the image if you'd like.
So looking at the results, the Video Poker Advisor not only tells you the best play, but also provides the other top options in order of EV (Expected Valuation).
See below.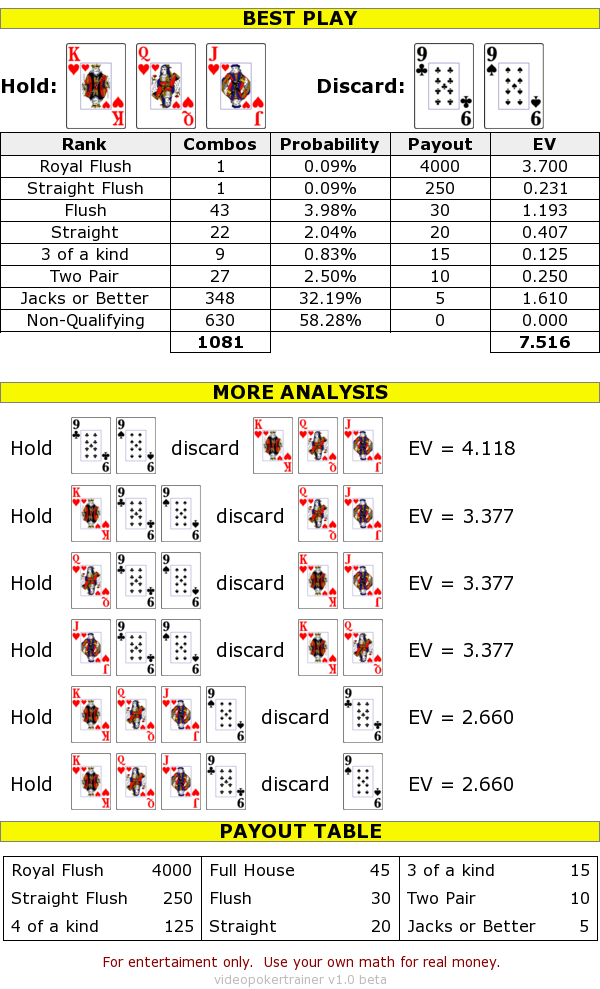 We also provide some sharing options if you'd like to share this hand with a friend.
Below the graphic is a web link to the image which you can copy/paste. And below the HTML link is text that illustrates the top 3 best moves and how the EV was calculated. You can view this information as Plaintext, HTML (to post on your blog or website), or BBcode (to post in a forum).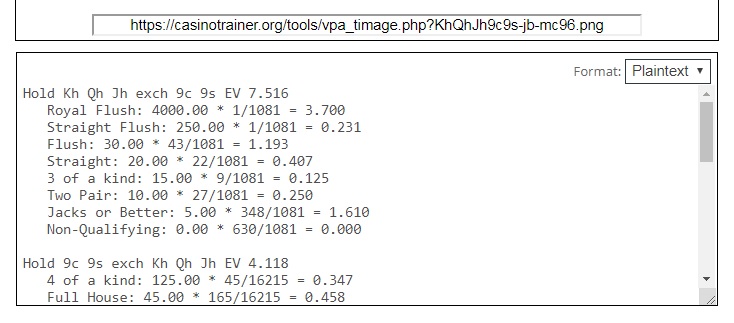 Miami Club Casino
Play video poker online and earn up to $800 free!
Miami Club Casino
#1 Choice for players in the United States!
Those looking to play video poker online from the good old USA can do so at Miami Club Casino. Why Miami Club? First off, they give up to 800 reasons to give them a try. Their initial deposit bonus offer if 100% up to $100, meaning a $100 deposit would earn you $100 free in bonus funds. And this can be claimed up to eight times, for $800 total, over eight deposits. (Each deposit after the first must be made via credit card to qualify.)
Once you make your deposit, you then have to wager 100x your deposit & bonus amount to "clear" it. Clearing bonuses is standard for all online casinos. This is their way to ensure you can't just deposit and run away with the cash. So a $50 deposit, which would earn a $50 bonus, would need to be wagered to the tune of $10,000. If you play $0.50 video poker machines with a max bet of $2.50, it would take 4,000 hands to clear. It goes much faster than you may think.
We recommend playing Jacks or Better since it's the easiest game to master and Miami Club has a 9/6 paytable, which is the absolute best you will find anywhere. Playing optimally you can expect a 99.5439% return. Just practice using our video poker trainer and advisor and your game will become optimal!
Video Poker Tournaments at Miami Club Casino
In addition to the deposit bonus and 8 variations of video poker offered at Miami Club, they also offer a unique twist on the game with video poker tournaments. These tournaments have a $500 prize pool and change up the game each week. Instead of using your casino chips to load a machine and play by yourself, in a tournament you pay an entry fee (which is $3), and then compete for the highest score. Whoever has the highest score over the course of the week, takes down first place and a large pay day!
This is just one more reason why Miami Club is a great option for video poker enthusiasts. It's worth a shot, deposit something small like $25 if you're hesitant, receive a $25 bonus, and see what the hype is about. Then when you're on board, you can make the leap with a larger deposit to take advantage of the full bonus amounts.
Play Video Poker at Miami Club Casino!
Up to $800 free for video poker players and $500 each week in video poker tournaments!
Leave Feedback Below!
Video Poker Advisor
Average rating:
0 reviews