Game:
Payout:
Difficulty:
Score:
| Hand | 1 coin | 2 coins | 3 coins | 4 coins | 5 coins |
| --- | --- | --- | --- | --- | --- |
HOLD

HOLD

HOLD

HOLD

HOLD

Credits:

Ans:
Forum Post

Registered member can ask our forum members for help on strategy for particular hands.
Start playing by clicking Deal button.
Click some cards to hold them, then press Draw.
Registered member can ask our forum members for help on strategy. Once you've got some cards deal, click ? button again to open forum post form.
How to Use the Video Poker Trainer
If you need help using our tool, find instructions below.
Video Poker is a very fun game that combines knowledge and skill with the luck of the cards. Although Video Poker is easy to play, it is actually very complicated to master. There are many, many variations of Video Poker, and each game has its nuances and should be played differently.
The most popular version of Video Poker is Jacks & Better, which can be found in all brick and mortar casinos, as well as online casinos, so it's a great starting point to master.
Before we start playing, you must select the Video Poker Game variation, the proper Payout associated with the Game, and the Difficulty level. We'll describe each of these settings.
As mentioned, there are many different versions of Video Poker. Our training tool has six variations programmed in – Jacks or Better, Aces and Eights, Bonus Poker, Double Bonus Poker, All American Poker, and Joker Poker. Select the game you would like to practice.
If you are new to Video Poker, we highly recommend you start your training with Jacks or Better.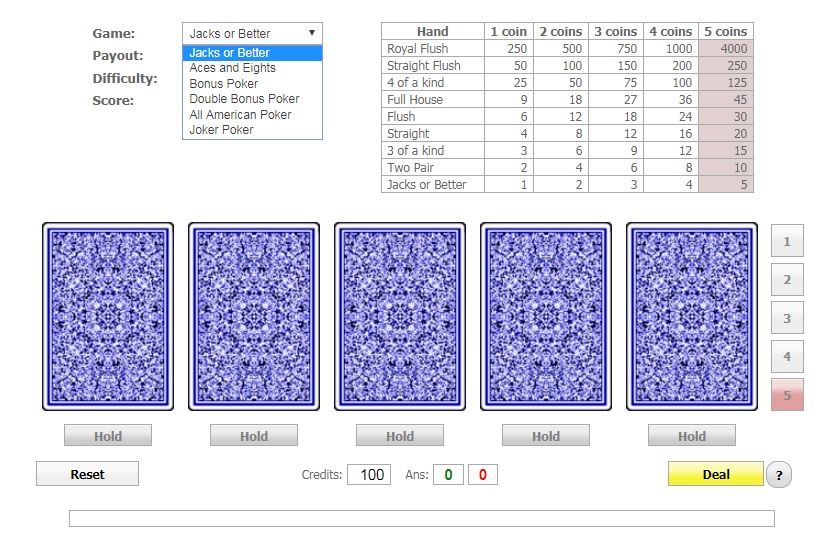 The next setting is the Payout. The Payout setting refers to what the player wins with 1 coin when hitting a Full House and a Flush. The default setting of 9/6 means that with 1 coin, you will win 9 with a Full House and 6 with a Flush. Not all Jacks or Better games pay out at the same rate, so you need to understand the paytables of the Video Poker game you are playing.
Obviously, a game that pays out 9/6 is much better than a game that pays out 6/5 (with all other payouts being equal, which they may not…)
The Difficulty setting allows you to choose Random or Hard. The Hard setting will test your knowledge on difficult situations.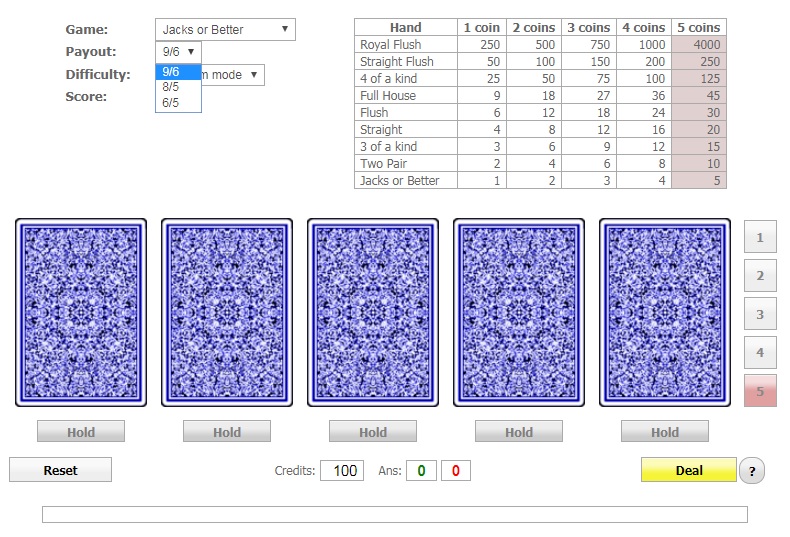 Now that the Trainer's options are set, click on the yellow Deal button to deal your hand.
You are given 100 Credits to start. Each hand, you are playing the maximum amount of 5 coins. This is critical for maximizing your odds and you should do this when you play for real money as well.
After your cards are dealt, you can click on the card itself or the Hold button to keep the card. Then click the Draw button draw your new cards.
The aim of the Video Poker Trainer is teach you to play perfect Video Poker. The Score will show you the number of correct moves in a row. The bottom of the tool will provide you feedback on whether you made the correct decision or not.
Keep track of your personal high score and try to beat it whenever you play!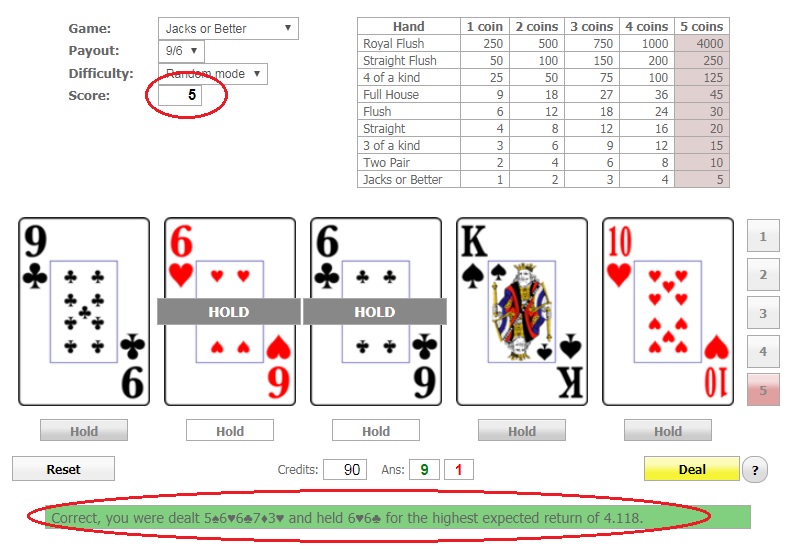 Play Video Poker Online
Earn free money bonuses to make some cash off your skills!
Miami Club Casino
We love Miami Club Casino for video poker! Here's why:

8 variations of video poker offered.


100% up to $100 deposit bonus, which can be redeemed eight times and cleared playing video poker.


Offers a full mobile friendly casino, so you can play on the go.


Video poker tournaments offered to give a new thrill.


Easily fund your account with credit cards.


USA players can play for real money.
And that's not all…
Video Poker at Miami Club Casino
Miami Club Casino is your one stop shop for all things gambling. They run a slick software (WGS Technology) which works well on PC or Mac. They also offer a mobile friendly site for this on Apple, Android, or Windows devices. You can play for fun or real money across all platforms and devices.
Before we get into video poker, let's highlight other games Miami Club offers. Basically, anything from 100+ slot machines, including progressive jackpots (always bet max!). If slots aren't really your thing, you can play 7 variations of blackjack, or hit the roulette table. You can also move to other table games such as pai gow, craps, or baccarat.
Now onto video poker. You won't find a casino that offers a better version of the popular Jacks or Better variation. With a 9/6 paytable, the expected returns are 99.54% meaning the house edge is only 0.46%! Then add in the bonus offer (more on this soon) and you can be a huge winner. They also offer other variations such as Aces and Faces, Deuces Wild, and Bonus Poker. There are 8 different video poker games you can choose from, some with multi-hands or other jackpot bonuses.
Now onto what you want to hear about – free money! Up to $800 in deposit bonuses could be yours at Miami Club Casino. Their opening offer is 100% up to $800, but can be claimed up to 8 total times, so long as you deposit with a credit card. To clear this bonus playing video poker, you must wager your deposit plus bonus 100x. In other words, $200 x 100 = $20,000. This may sound like a lot, but if you play $0.50 video poker at max bets, it would take 8,000 spins. Fast video poker players can complete this in no time.
If you want to learn even more, read our review of the Miami Club no deposit bonus codes.
Play Video Poker at Miami Club Casino!
Miami Club is literally giving away $800 for you to play video poker. Join now!
Leave Feedback Below!
Video Poker Trainer
Average rating:
0 reviews